Description
But since single-breasted jackets have become so popular throughout the world since World War II and the double-breasted is really a very small percentage of suits now, most people don't recognize that distinction.
Okay, so let's talk about the difference between single-breasted and double-breasted. Most of us are familiar with single-breasted jackets. They come in one, two, three, sometimes four or five buttons. I stay away from those.
But the one button, single-breasted jackets, two-button, three-button jackets make up more than 94% of all the jackets out there and that's what most of us are going to see mostly in formal wear.
The big thing that we're going to notice with double-breasted is that they've got extra fabric that's going to fold over again from left to right. We're going to see a larger amount of fabric that folds over and we're going to see two rows of buttons versus one.
Normally, we're going to have either four total buttons, two on each side, or we're going to have six which is actually the classic and the more original. The four came a little bit later.
Within these, we also see which buttons fasten changes. So occasionally, we will see when you have three and three, we'll see two fasteners; sometimes we'll only see one fastener.
And when you've got the two and two, you will also see two fasteners and sometimes one fastener.
Whenever you have the one fastener, what that does is it allows the lapel to roll down lower and that can create a little bit more of a vertical line going down and it creates a slight illusion.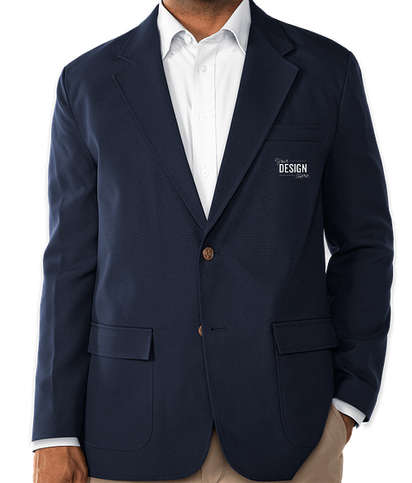 This classic blazer makes a great uniform for concierge services, valet drivers and anyone wanting a more formal and professional look.
Product Overview Single Breasted Blazer
100% polyester
2 button front
Classic notched lapel style
Fully lined to lay smoothly and create a better fit
Single, center vent in back for added comfort and movement
2 front pockets
Left chest decorative welt pocket
3 decorative buttons at cuff
Machine wash and dry
Available in Youth and Adult Short and Long sizes, call for more details